We understand the needs of productions vary so we're flexible! Whether you just need us to handle your talent approvals, or would like a full photo lab approach to managing your stills, Image Approvals offers an array of services to meet your needs. These include:
Talent Approvals
Auditing your stills
Episoding
Curating
Captioning
Express Approvals Service
Daily FTP upload/download
Cloud storage
Talent Approvals
Handling talent approvals of production stills is our specialism! Our software was designed to make it as simple and as easy as possible for actors to make their photo kills and for stakeholders to mark their selects. Our simple-to-use interface can be used on any device and our individual Welcome Packs mean users have everything they need to complete their approvals without needing any support time from you.
Once all users have completed their approvals, we organise your images into Killed, Approved and Approved Selects folders and send them back to you via your chosen delivery method.
Auditing
Sometimes you may have multiple photographers covering your production stills, each with their own way of delivering their images, leaving you with multiple hard drives and/or download links to sort out. Or, you may have a single photographer who has an inconsistent or disorganised way of delivering their files to you making it difficult for you to know if you have everything and where to begin when it comes to marking your selects or starting the approvals process. Both of these are a recipe for lost or missing images, not to mention hours of stress!
Our auditing process is the first step in our handling of your images and is included as standard if your unit stills are supplied to us in the format requested.
We will take your photos, consolidate them into one easy-to-navigate folder structure, verify that all RAW images are accounted for and generate both high and low res JPGS so that you have a complete set of images.
We will also rename files where necessary so that you can easily identify when stills were taken and by whom, and have them display in chronological or episode order when they are all stored together in one folder. Our non-destructive approach to renaming files means you'll always know which images are being referenced, even if they have changed names from their original delivery to us.
Episoding
Got lots of days of photography and thousands of images to sort into episodes? We can take care of it for you with our optional "Episoding" service! We can organise all of your production stills across both RAW and JPG formats into episodes so you can more easily make your selects and know how many images per episode you are delivering to your distributors.
Save money on this process by getting your stills photographer to follow our delivery guidelines.
Curating
Photographers want to make sure they cover everything but you don't always need every image they submit. Having hundreds if not thousands of images per shoot day is a lot for you to manage – especially if they include RAW files – and neither you nor the cast and their reps need or want to go through all of them.
Here's where we come in with our optional curation service. Simply set the level of curation you would like us to do and we will provide a first pass over your stills so that you only see the images you need to.
Choose from our curating levels below:
Soft
Removal of identical duplicates
Removal of accidental images (because you don't need shots of the photographer's foot).
Removal of technically poor shots (eg images that are far too overexposed to be salvagable).
Removal of any obviously unflattering shots (eg false expressions, blinking etc).
Medium
Removal of the above plus…
Reduction of variations when there are more than required (eg reducing 50 shots of a character walking towards the camera down to the best 10).
Removal of weaker compositions when stronger options are available.
Hard
Essentially rather than removing duds, for a hard curation, we will make selects by…
Choosing the best images from each scene.
Choosing the best BTS images.
Working to a specific number of images that you want to be left with.
As with our Episoding service, we will curate both your RAW and JPG images so that you have a complete set of images and don't need to manually cross-reference your RAW files. Images that are curated out from the selection that go to cast for approval are never deleted so if you feel like you need more options, you can always access them.
Batch Editing
Images too dark to see clearly? Do you want the equipment and crew cropping out so you have a clean unit shot? We can provide an optional batch editing service on all of the images due to go through approval. Think of it as a quick clean-up so your images can be viewed in the best possible way and be ready to go out as-is if you don't have the budget for isolated image editing!
Captioning
We also provide an optional captioning service. Simply send us the call sheets for each day's photography coverage and we will take the scene synopsis and use this information to supply a caption sheet alongside your approved images so that distributors have everything they need in one place.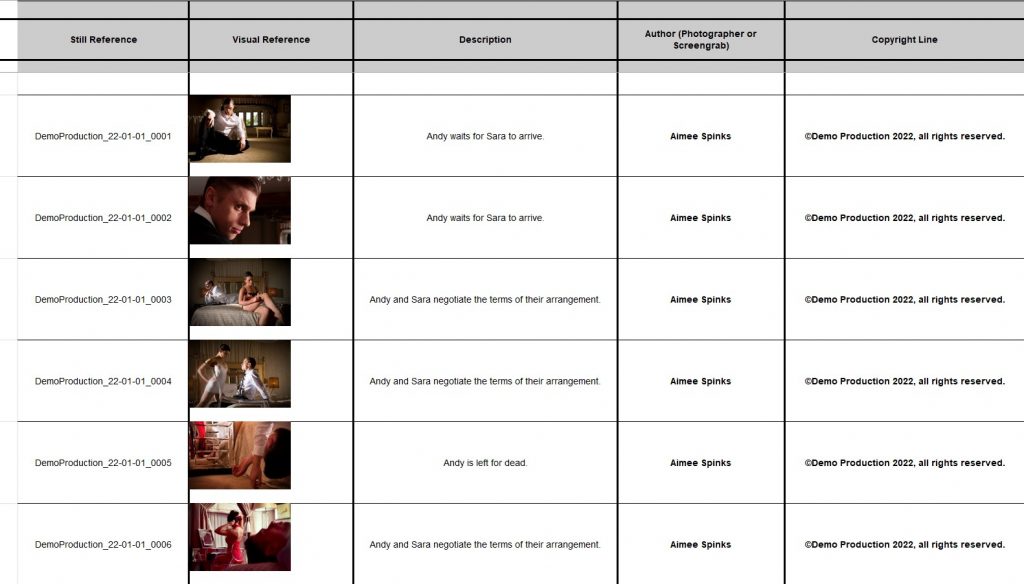 Express Service
Got a tight deadline? Subject to availability we can offer an express service that can see your approvals online within 48 hours ready for the cast to approve. Once they have completed their approvals, we can then organise your images into Killed, Approved and Approved Selects folders and have them returned back to you within 24 hours.
Daily FTP Upload/Download
Ideal for very large projects that need images uploading daily with multiple people able to access the RAW and high res files before approvals have been completed.
This option is perfect for projects that film over the course of several months or whicj want to enable retouching and delivery teams to have early ongoing access to all of the stills assets.
Cloud Storage
Delivered your project and don't know what to do with the assets now? If you don't want to store them yourself on hard drives or incur the huge costs of storing gigabytes if not terabytes of data online, ask us about our long-term cold storage options. We can house your assets for any length of time and arrange for different frequencies of access depending on your needs.