How it works
After nearly a decade of working in Unit Stills, we built our platform to answer the question of how to manage the talent approvals process.
Image Approvals streamlines the process of managing talent photo kill rights by teaming up with your unit photographer. By allowing them to upload their images at the end of their shoot day,  as part of their normal workflow, you can start getting talent approval immediately – essential for those first looks at the start of production!
To make things as simple as possible, our platform has different logins for actors, productions (and publicity), and photographers. Users see only the functions and information that is relevant to them and being account-based, is more secure and efficient that distributing links.
No drives to ship back and forth and no complicated software to install and learn your way around means an efficient, stress-free and cost-effective way of managing your talent's image approvals rights.
The Image Approvals steps (Overview)
You contact us or request a quote, and we get you set up for your production.
We assign accounts to you, the actors, and your photographer (or another responsible stakeholder). Actor accounts can be created with only a username, should talent not wish to share their contact information.
The publicist or photographer tags actors in images by their name and uploads low resolution JPG photos for each shoot day via our web interface.
We prepare welcome packs and provide to you as PDF's to distribute to the actors.
Talent logs in to our platform on a computer, or on their smartphone or tablet.
We show them a list of all the production days they are tagged in and how many images they have viewed so they can see their progress at a glance.
Actors can begin killing images one by one. As they kill an image, their solo and group kill allowance automatically updates, allowing them to keep track of the process. The platform does not allow them to exceed their kill limit and our one-touch kill process enables actors to fly through their images in seconds.
Once they are done with a production day, they can mark the day as done, and move onto to the next one.
Production/publicist accounts can see which actors have marked which days as done and view a summary of how much each actor has used of their available kill allowances. Once all actors tagged in a shoot day have marked it as done, the completed day appears in the list with a green tick next to it.
Production/publicist accounts can mark images as selects. This can either be done at the start of the process, or once the talent has marked all days as done.
Production/publicist accounts can download a PDF contact sheet of all, killed, and un-killed images, or unkilled selects. This contact sheet shows which days are marked done, and if an image is killed, then who has killed it so you have a full audit trail of your approvals.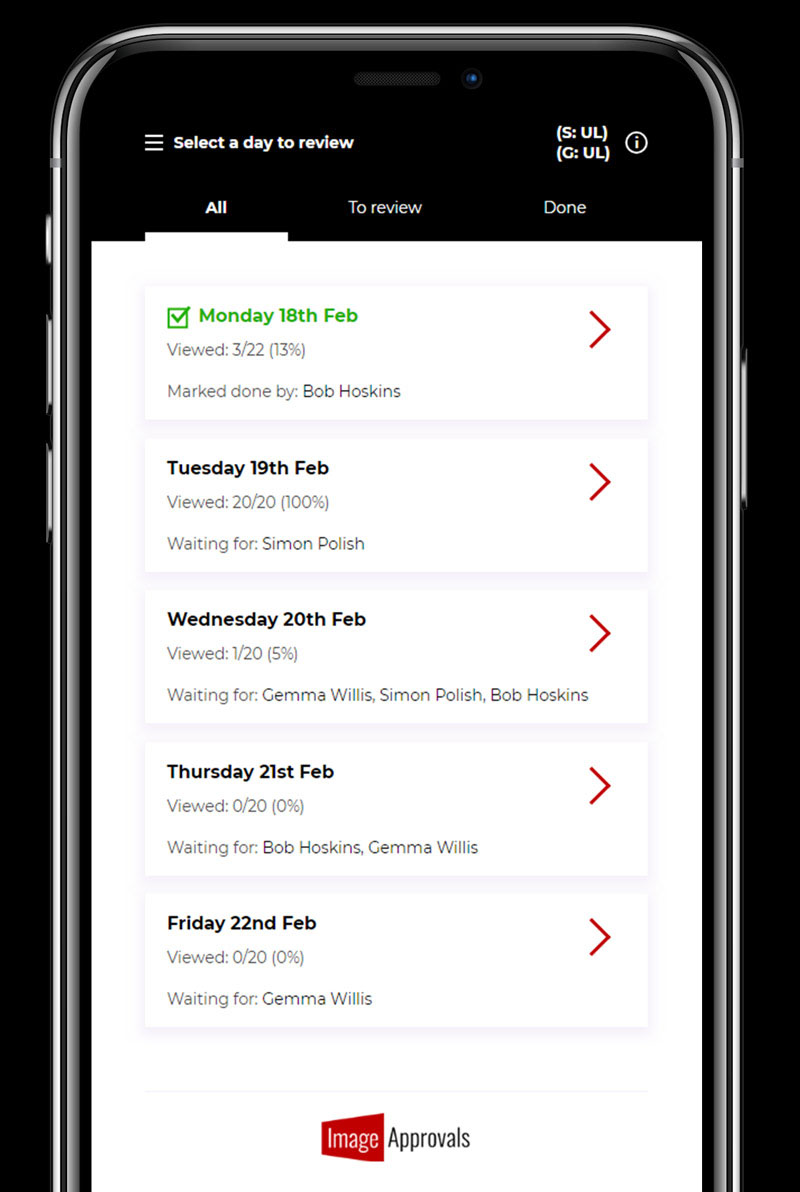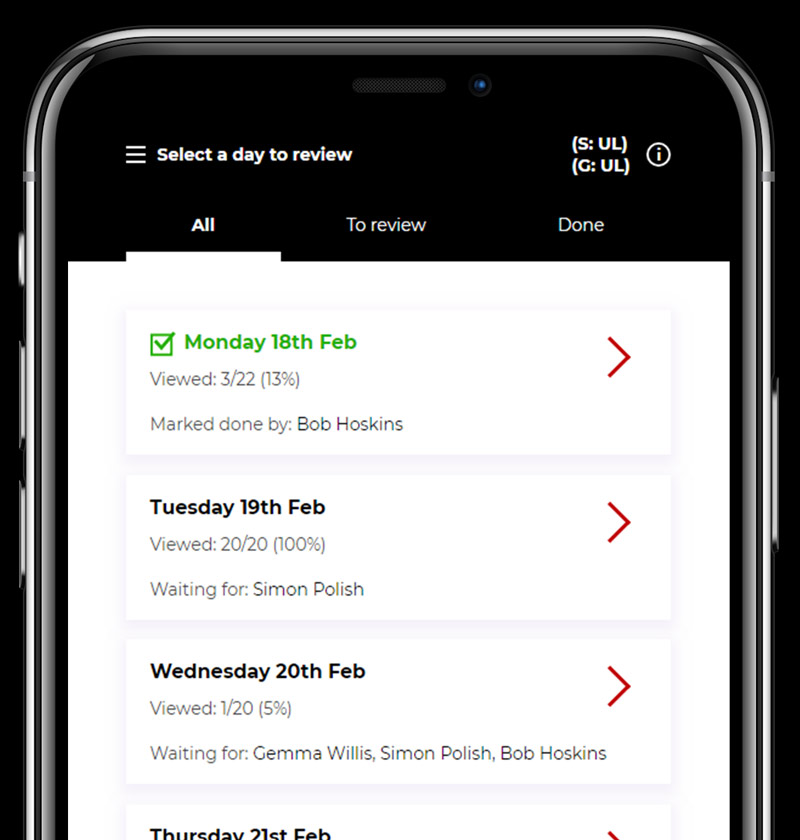 Talent accounts
Getting tired of losing unsecure links to contact sheets? We give your talent their own account to log in with so you don't have to keep sending them files to look at.
Talent can view each shoot day as it is uploaded, for real-time approvals without you needing to do anything.
Using our one-click kill system, they can fly through the approvals process with ease.
Set your kill rates for each actor; you can even specify different percentages for group and solo images, and Image Approvals won't let anyone go over their limit.
Mobile-friendly, talent can work through their approvals on the go, and can pick up from where they left off each time.
Once talent have completed their kills for a shoot day, they mark the day as done so you can track how far through the process they are and know the images are safe to use.
Production accounts
Your publicist or producer can also have an account so they can track actors' progress and download PDF contact sheets or Excel spreadsheets of approved images to make sure only the right photos get used. Other features include:
Add or remove talent tagged in images, and see who has viewed and killed each of them.
Get a quick overview of everyone's kill numbers at any time and see who has completed approvals for each shoot day, all at a glance!
Make your own kills so you can curate the list of approved images further.
A full audit trail of all downloaded documents: our downloads will show the thumbnails and filenames of each image, along with written confirmation as to each image's kill status, who it was killed by, and which actors have marked the day as done, so you can have full confidence that you are using the correct photos. You can even filter by kill status for an at a glance look at the approved shots.
Security
We know how sensitive your media is, which is why we take security very seriously. Some of the security features of Image Approvals include:
Built using robust industry-standard security processes and frameworks.
No global share-links. Every user has a password-protected account.
Image asset URL's are inaccessible unless logged in, preventing sharing.
Watermarked images with the name and ID of the user viewing it to deter leaking.
Pricing
You can plan for the amount of stills-coverage in advance, but you can't predict how many images your photographer might shoot.
We understand the importance of being able to plan your budgets at the start of production, which is why we charge  for our online photo approvals platform per shoot-day uploaded, and not per-image shot.
No subscriptions, and add days on the fly as you need them so that you never spend more than you have to.
Quick photo kill process, and navigation through images
We've implemented a one-click-kill process when viewing images in our approvals web app. As talent navigates through each photo, they can either click the left and right buttons on the image itself or at the bottom of the screen. If they find an image that they would like to kill then there is a big red "kill" button underneath each image.
To reduce the number of clicks (or touches) that it takes to go through the process, as soon as the kill button is clicked, you are navigated to the next unviewed image within the production day currently being reviewed. This makes the talent approvals process on Image Approvals extremely fast. Our data shows that on average actors spend between one and five seconds reviewing each image, meaning thousands of images can be reviewed in a relatively short period of time.
As actors kill images, their group and solo kill counts are updated on-the-fly, showing the talent exactly how many images they have killed of their allowance. Once they hit 100%, they've used their allowance and cannot kill any more images without first going back and un-killing some images.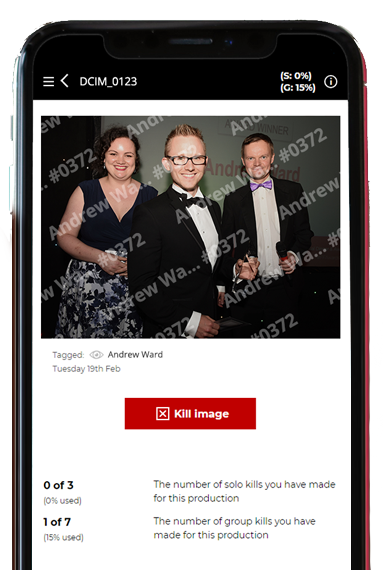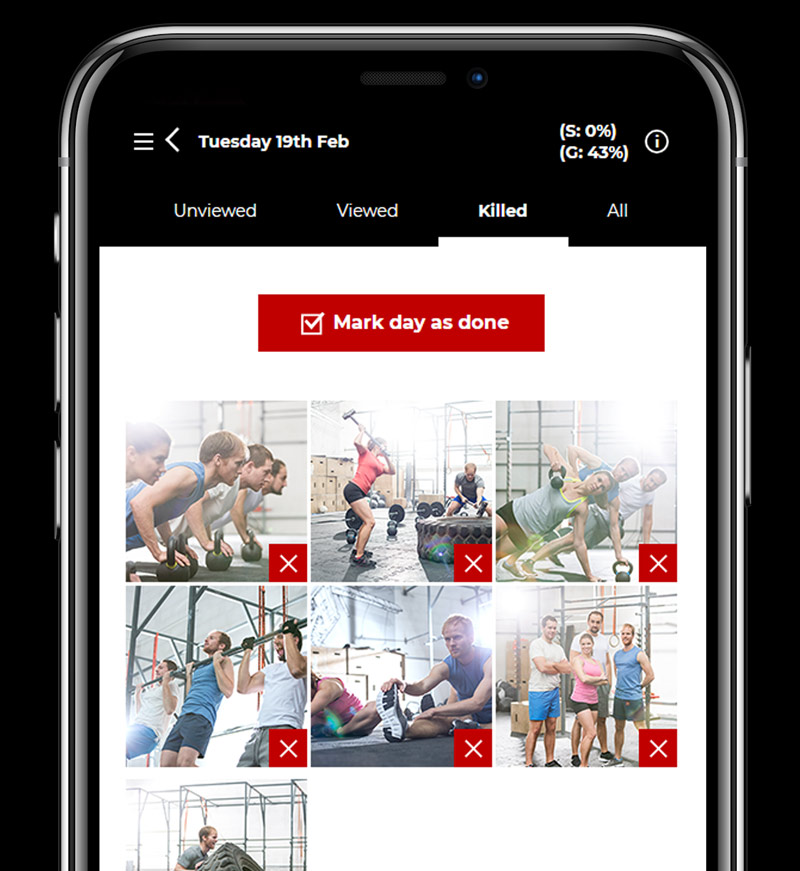 View and browse images via our clean easy-to-use interface
Feedback from users of our platform is that they feel it's clean, desktop and mobile optimised, and easy to use.
We allow each cast member to have their own account and once logged in they can browse and manage photographs by production day. This approach allows them to manage the process one day at a time, marking days as done once they've finished. In practice this allows actors to go through the process at their own pace, putting down and picking back up the process alongside their busy agendas.
New images uploaded to the platform appear immediately, avoiding the need to repeatedly send new share links or contact sheets. Actors can browse images by thumbnail, or by one image at a time.
Once an actor has finished reviewing the day, they can mark it as done, allowing you to keep track of the process, ensuring the process is completed on time.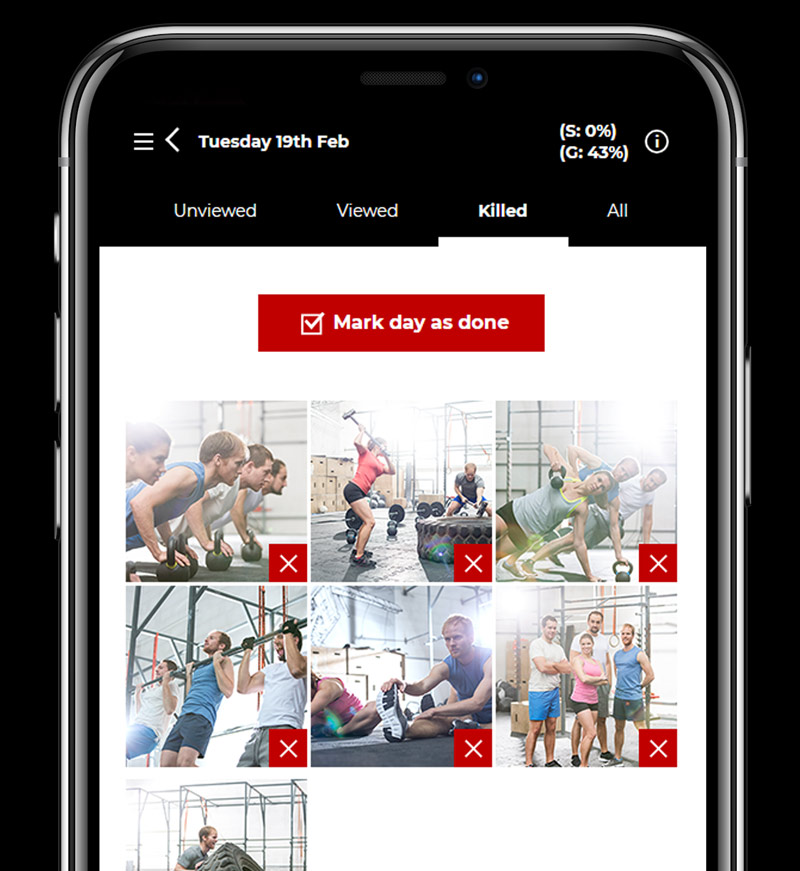 Simple overview: Keep track of kill counts, solo and group, for all talent
We keep track of image kill counts for both solo and group kills. Photos are considered "solo" if only one actor will kill rights is tagged, and they are considered "group" if more than one actor with kill rights is tagged. Our software automatically works out which is which based on how the images are tagged and calculates the kill counts for actors dynamically.
Actors see a simple breakdown showing them how many images they appear in, how many images they are allowed to kill, and what percentage of that kill allowance they've used.
Agents, publicists, or producers overseeing the Image Approvals process have a more advanced kill allowance view. This advanced view allows them to see not only their own kill allowance but the kill allowance of each cast member assigned to the production, giving them a high-level overview of their progress.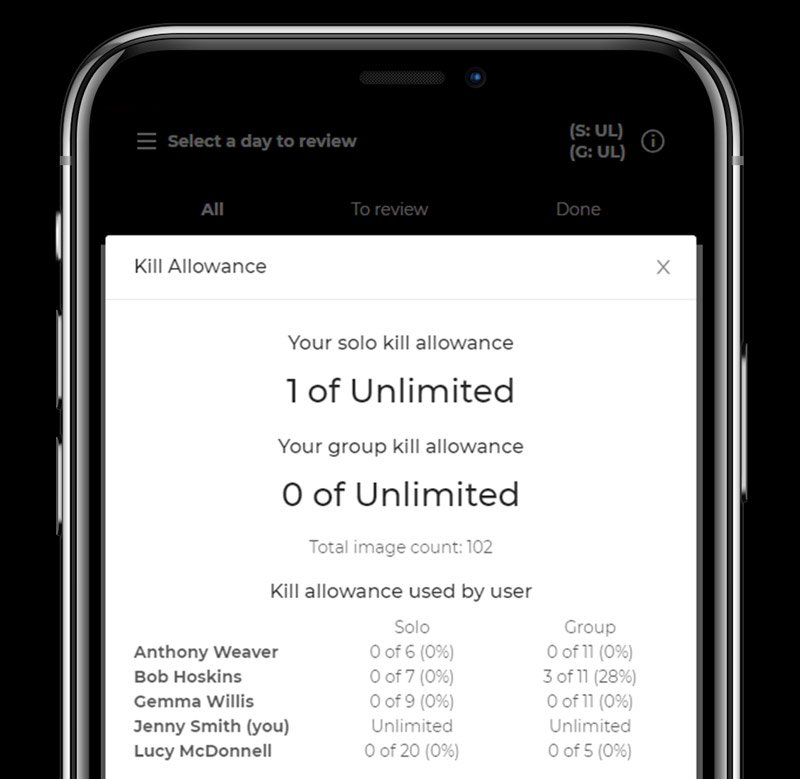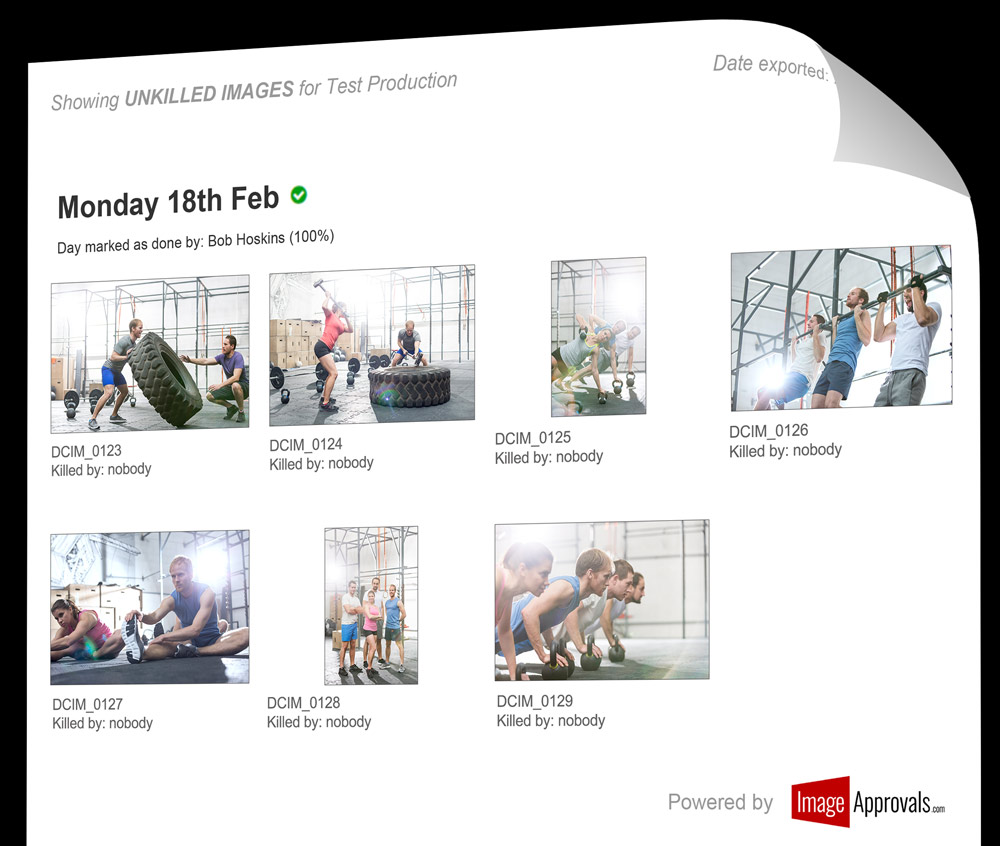 Record the outcome of the kills process & export PDF contact sheets
Once the actors are done with the kills process, you need a record of which images weren't killed, which were and by whom. To solve this problem we allow you to generate contact sheets at any stage of the talent approvals process. Production-side user accounts (such as agents or producers) have access to a downloads section, allowing the download of printable summary-contact-sheets of all images, all killed images, or all unkilled images. Both PDF and spreadsheet formats are available.
The contact sheets show who has killed each image, which of the talent has marked each day as done, or still needs to do so. This extra information acts as a clear audit trail and prevents contact sheets being distributed and images shared before actors have completed their kill process.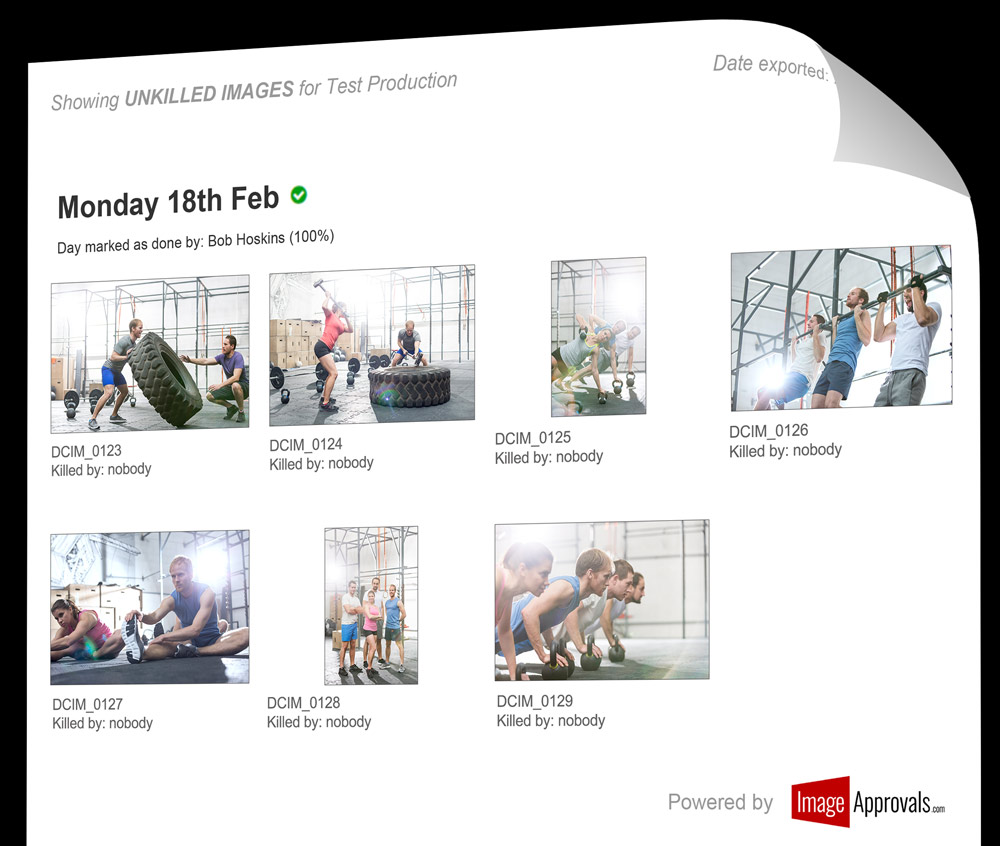 Start the approvals process on day-one of shooting
Social media and PR often demands the timely release of assets, especially for episodic content. Our platform helps to prevent the talent photo approvals process from blocking your marketing and publicity activities.
Photographer accounts can add shoot days and upload images quickly and easily themselves as part of their normal end-of-day workflow, meaning assets are online and available for talent to view and kill from the first day of production.
Once all actors have marked the day's they are tagged in as done, you know the remaining un-killed images are approved and safe for use.