What are talent approvals?
Talent approvals are the contractual rights actors and other high profile performers have over their image during the course of filming a film or TV production. Often, the key cast will have the right to kill or approve a certain percentage of the images in which they appear and this complex process can be easily managed through an online approvals platform such as Image Approvals.
After nearly a decade of working in the stills department of major film and TV productions, we built our platform to answer the question of how to manage the talent approvals process in a simple and cost-effective way.
With more and more actors demanding the use of an online approvals system, now is the time to join the dozens of other productions working smarter by using Image Approvals.
Image Approvals streamlines the process of managing talent photo kill rights and can adapt to a multitude of workflow preferences; whether you want to approve images as you film in order to get those first look photos out quickly, do it in one go on wrap, manage it in-house, delegate to your unit publicist or have us help; Image Approvals can fit any workflow requirements you have.
Users see only the functions and information that is relevant to them and being account-based, is more secure and efficient than distributing links.
No complicated software to install and learn your way around means an efficient, stress-free and cost-effective way of managing your talent's image approvals rights.
The Image Approvals steps (Overview)
You contact us to request a quote, or to request a demo
When you are ready to go, send your images over to us and we will fully audit them. This includes consolidating all of your images into an easy-to-navigate folder structure, renaming images where necessary so that they view in chronological or episode order and make it easy to identify when and by who they were taken. We will also ensure you have high and low resolution JPGS of all of your RAW files so that by the end of it, you have a complete set of images that are easy to look through.
If you've opted for our curation service, we'll curate your images according to your brief. This means you only see the images that you want and need to and cast are more likely to have a positive and quick experience submitting their approvals. Don't worry, we don't delete any stills so you'll always be able to access those we've curated out should you need to.
We then tag actors into images in which they appear and these are uploaded as low-resolution JPGS for fast and secure viewing.
We provide you with Welcome Packs and user guides to distribute to your actors so they don't need any support time from you and can get going with their approvals right away.
Talent logs in to our platform on a computer, or on their smartphone or tablet.
They see all the images they are tagged in and can see their progress at a glance in order to pick up where they left off. Newly uploaded images will appear in real time, so you never have to send another viewing link again!
Actors can begin killing images one by one. As they kill an image, their solo and group kill allowances automatically update. The platform does not allow them to exceed their kill limit and our one-touch kill process enables actors to fly through their images in seconds whilst also giving them the ability to unkill shots if they change their mind.
If you want to add more images, talents' totals and remaining kill allowances automatically recalculate.
Once they are done with a production day, they can mark the day as done, locking in their kills and moving onto to the next folder of images.
Production/publicist accounts can see which actors have marked which days as done and view a summary of how much each actor has used of their available kill allowances for easy tracking without having to contact talent or their teams for updates.
Production/publicist accounts can also mark images as selects and create their own kills for a more curated set of images.
If you have stakeholders who want eyes on the images we can provide Viewer accounts for them with customisable permissions. Set whether they see all images, unkilled images, or just unkilled images that you've also marked as a select.
Both Viewer and Production/Publicist accounts can also be given permission to download individual low res JPGS either with or without a personal watermark.
Once all approvals and selects have been completed, we will organise your images into the following folders: Curated Out, Killed, Approved and Approved Selects.
We will then supply all of the images back to you via hard drive and can also supply a download link of the approved high res JPGS for easy distribution.
Alongside your images you'll find a full set of reports in both spreadsheet and contact sheet form detailing the status of each image.
If you've opted for our captioning service, you'll also receive a spreadsheet listing all of your approved images with their caption alongside.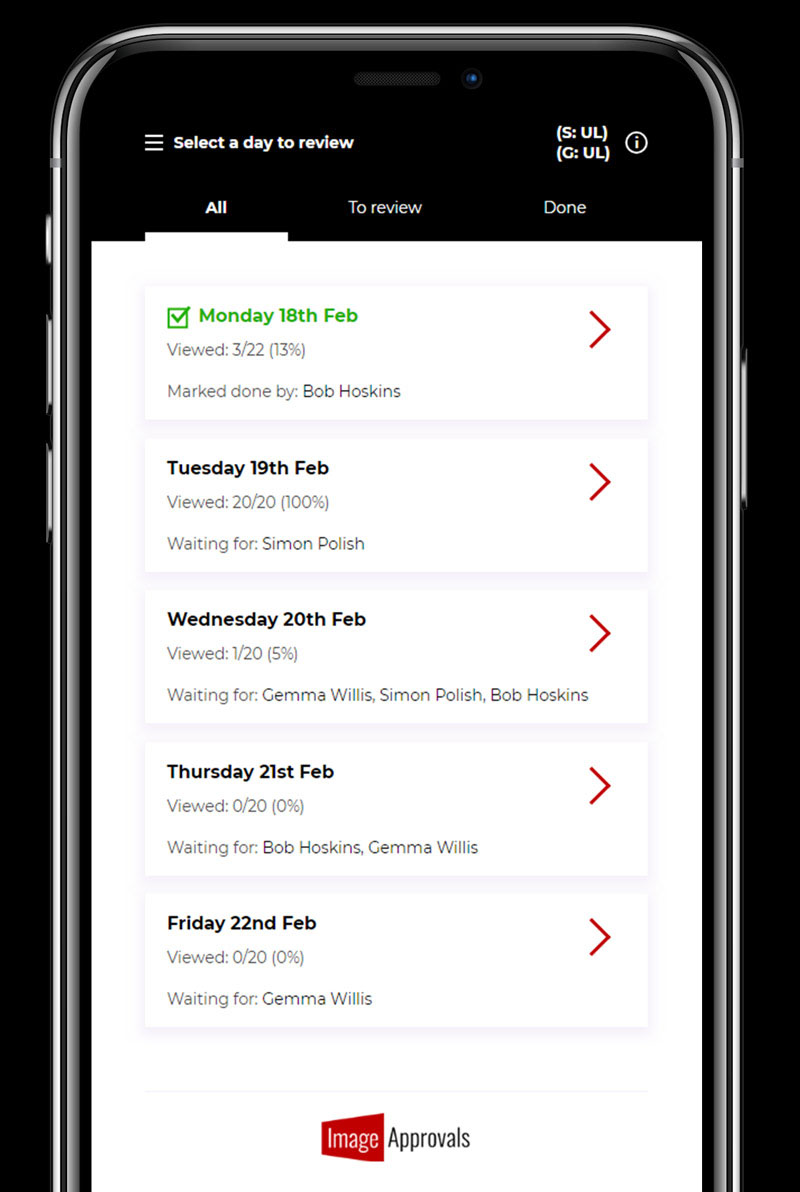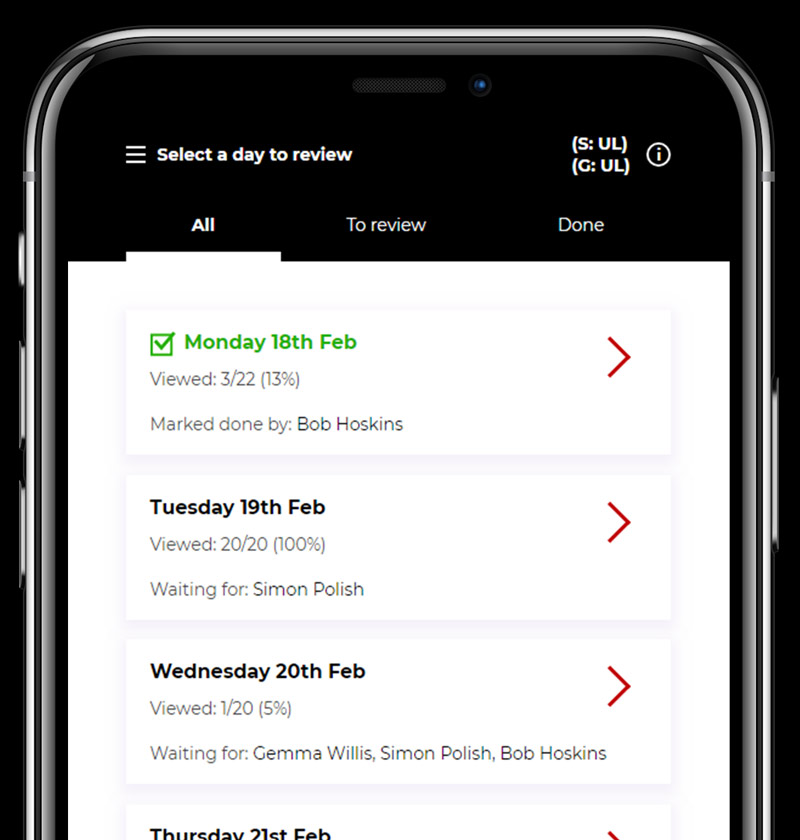 Talent accounts
Getting tired of losing unsecured links to contact sheets or having to juggle multiple folders of images on Dropbox? We give your talent their own account to log in with so you don't have to keep sending them files to look at.
Talent can view each shoot day as it is uploaded, for real-time approvals without you needing to do anything.
Actors will only see the images in which they appear which means you don't need to create multiple actor folders, saving you lots of time and storage space!
Using our one-click kill system, they can fly through the approvals process with ease, reducing your support requests and ensuring actors are able to get through their approvals quickly.
Set your kill rates for each actor; you can even specify different percentages for group and solo images, and Image Approvals won't let anyone go over their limit.
Mobile-friendly, talent can work through their approvals on the go, and can pick up from where they left off each time.
Once talent have completed their kills for a shoot day, they mark the day as done so you can track how far through the process they are and know the images are safe to use.
Production accounts
Your publicist or producer can also have an account so they can track actors' progress and download PDF contact sheets or Excel spreadsheets of approved images to make sure only the right photos get used. Other features include:
Add or remove talent tagged in images, and see who has viewed and killed each of them.
Get a quick overview of everyone's kill numbers at any time and see who has completed approvals for each shoot day, all at a glance!
Make your own kills so you can curate the list of approved images further.
A full audit trail of all downloaded documents: our downloads will show the thumbnails and filenames of each image, along with written confirmation as to each image's kill status, who it was killed by, and which actors have marked the day as done, so you can have full confidence that you are using the correct photos. You can even filter by kill status for an at a glance look at the approved shots.
Security
We know how sensitive your media is, which is why we take security very seriously. Some of the security features of Image Approvals include:
Built using robust industry-standard security processes and frameworks.
No global share-links. Every user has a password-protected account.
Image asset URL's are inaccessible unless logged in, preventing sharing.
The option to have images watermarked with the name and ID of the user viewing it to deter leaking.
Image Approvals is certified by the National Cyber Security Centre, part of the UK Government's information assurance scheme to ensure best practices are upheld.
Pricing
You can plan for the amount of stills-coverage in advance, but you can't predict how many images your photographer might shoot.
We understand the importance of being able to plan your budgets at the start of production, which is why we charge  for our online photo approvals platform per shoot-day uploaded, and not per-image shot.
No subscriptions, and add days on the fly as you need them so that you never spend more than you have to.
Quick photo kill process, and navigation through images
We've implemented a one-click-kill process when viewing images in our approvals web app. As talent navigates through each photo, they can either click the left and right buttons on the image itself or at the bottom of the screen. If they find an image that they would like to kill then there is a big red "kill" button underneath each image.
To reduce the number of clicks (or touches) that it takes to go through the process, as soon as the kill button is clicked, you are navigated to the next unviewed image within the production day currently being reviewed. This makes the talent approvals process on Image Approvals extremely fast. Our data shows that on average actors spend between one and five seconds reviewing each image, meaning thousands of images can be reviewed in a relatively short period of time.
As actors kill images, their group and solo kill counts are updated on-the-fly, showing the talent exactly how many images they have killed of their allowance. Once they hit 100%, they've used their allowance and cannot kill any more images without first going back and un-killing some images.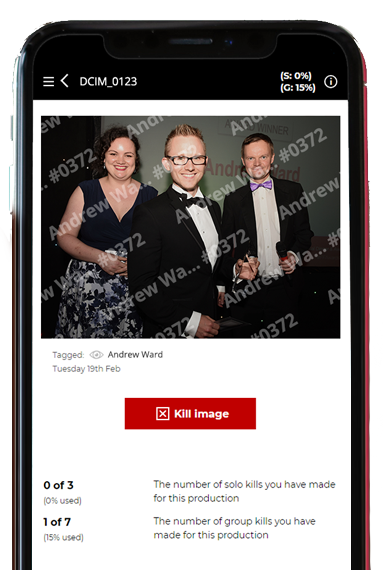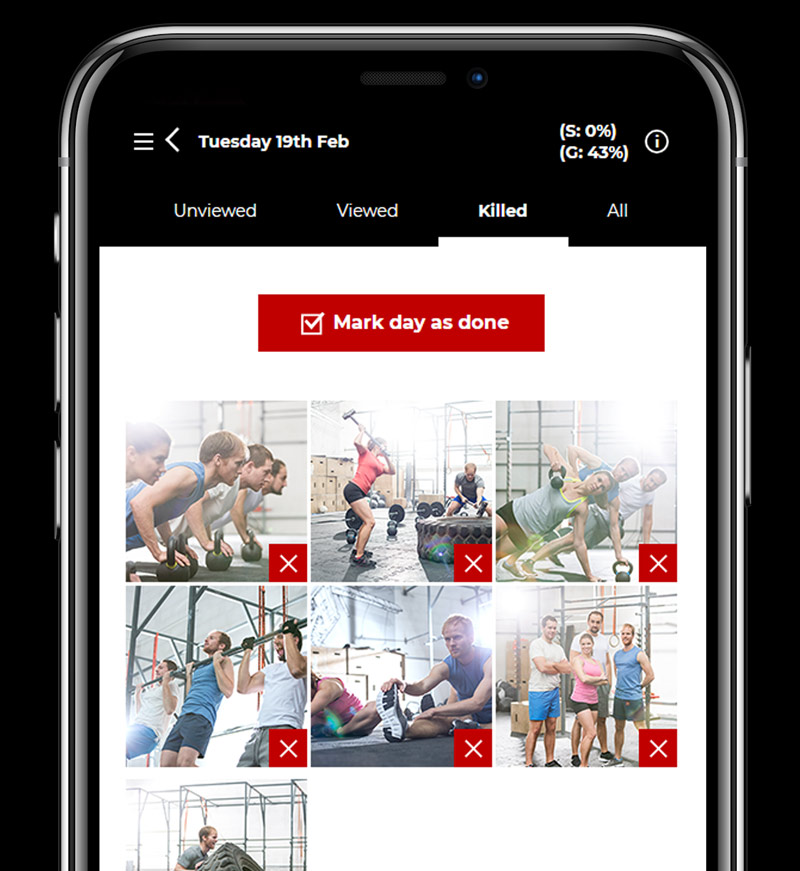 View and browse images via our clean easy-to-use interface
Feedback from users of our platform is that they feel it's clean, desktop and mobile optimised, and easy to use.
We allow each cast member to have their own account and once logged in they can browse and manage photographs by production day. This approach allows them to manage the process one day at a time, marking days as done once they've finished. In practice this allows actors to go through the process at their own pace, putting down and picking back up the process alongside their busy agendas.
New images uploaded to the platform appear immediately, avoiding the need to repeatedly send new share links or contact sheets. Actors can browse images by thumbnail, or by one image at a time.
Once an actor has finished reviewing the day, they can mark it as done, allowing you to keep track of the process, ensuring the process is completed on time.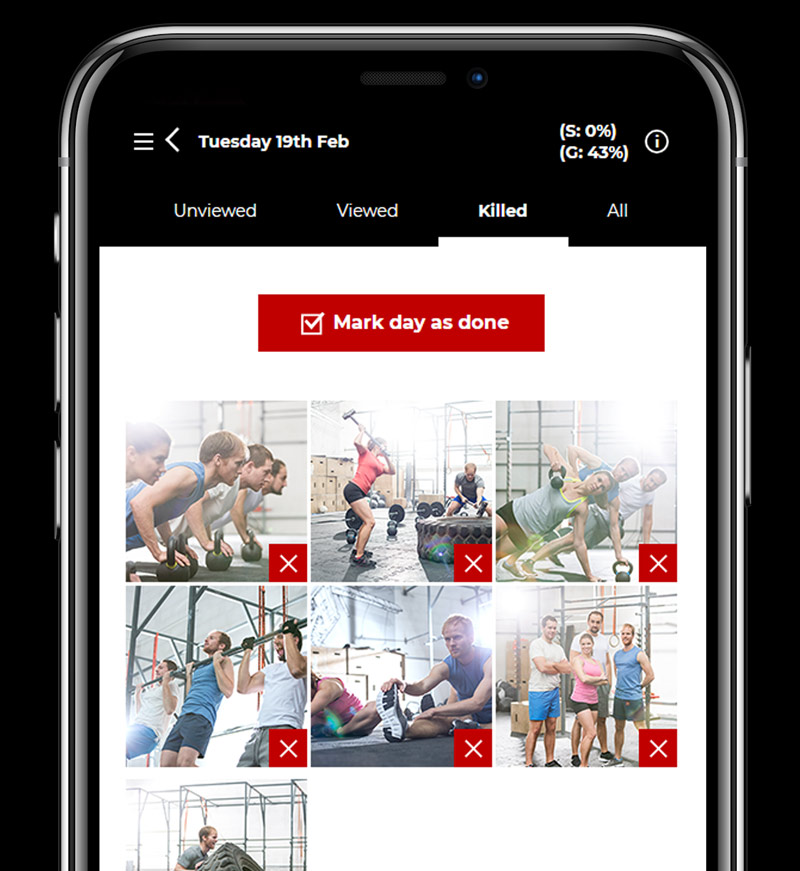 Simple overview: Keep track of kill counts, solo and group, for all talent
We keep track of image kill counts for both solo and group kills. Photos are considered "solo" if only one actor will kill rights is tagged, and they are considered "group" if more than one actor with kill rights is tagged. Our software automatically works out which is which based on how the images are tagged and calculates the kill counts for actors dynamically.
Actors see a simple breakdown showing them how many images they appear in, how many images they are allowed to kill, and what percentage of that kill allowance they've used.
Agents, publicists, or producers overseeing the Image Approvals process have a more advanced kill allowance view. This advanced view allows them to see not only their own kill allowance but the kill allowance of each cast member assigned to the production, giving them a high-level overview of their progress.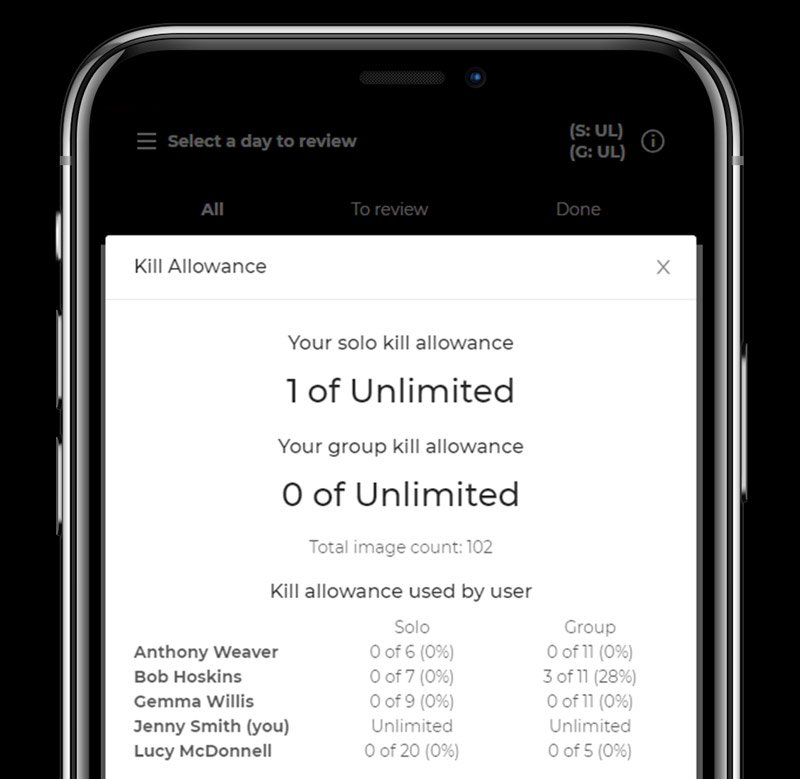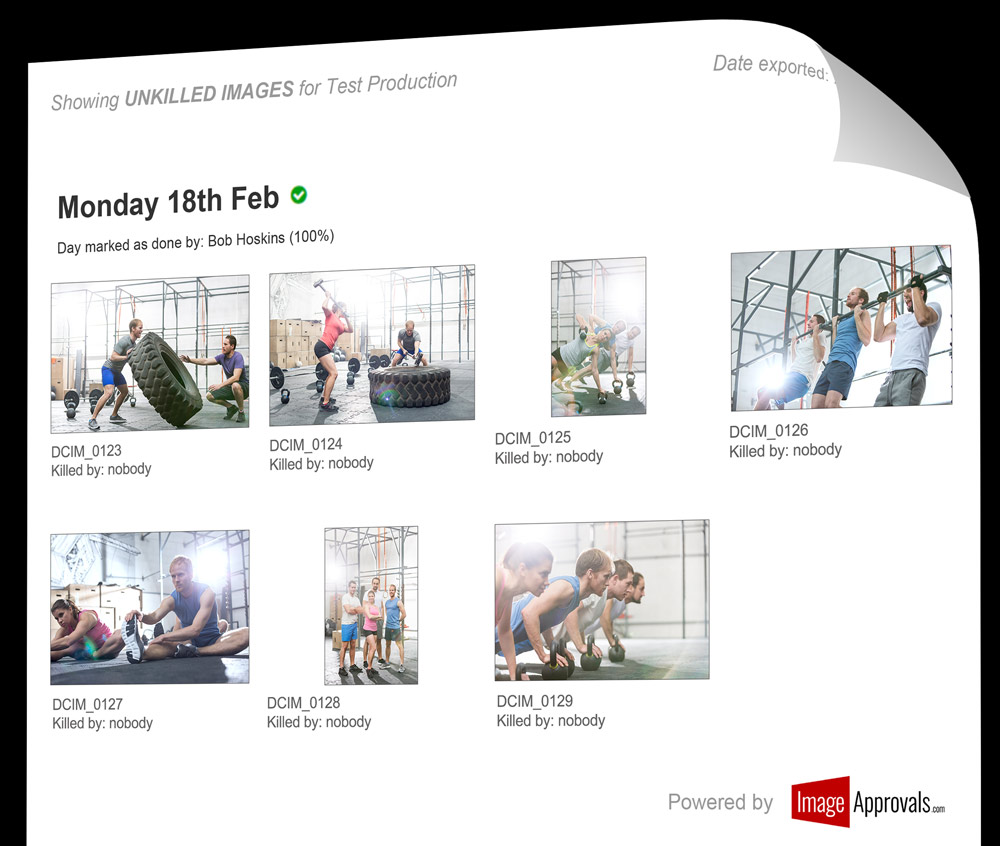 Record the outcome of the kills process & export PDF contact sheets
Once the actors are done with the kills process, you need a record of which images weren't killed, which were and by whom. To solve this problem we allow you to generate contact sheets at any stage of the talent approvals process. Production-side user accounts (such as agents or producers) have access to a downloads section, allowing the download of printable summary-contact-sheets of all images, all killed images, or all unkilled images. Both PDF and spreadsheet formats are available.
The contact sheets show who has killed each image, which of the talent has marked each day as done, or still needs to do so. This extra information acts as a clear audit trail and prevents contact sheets being distributed and images shared before actors have completed their kill process.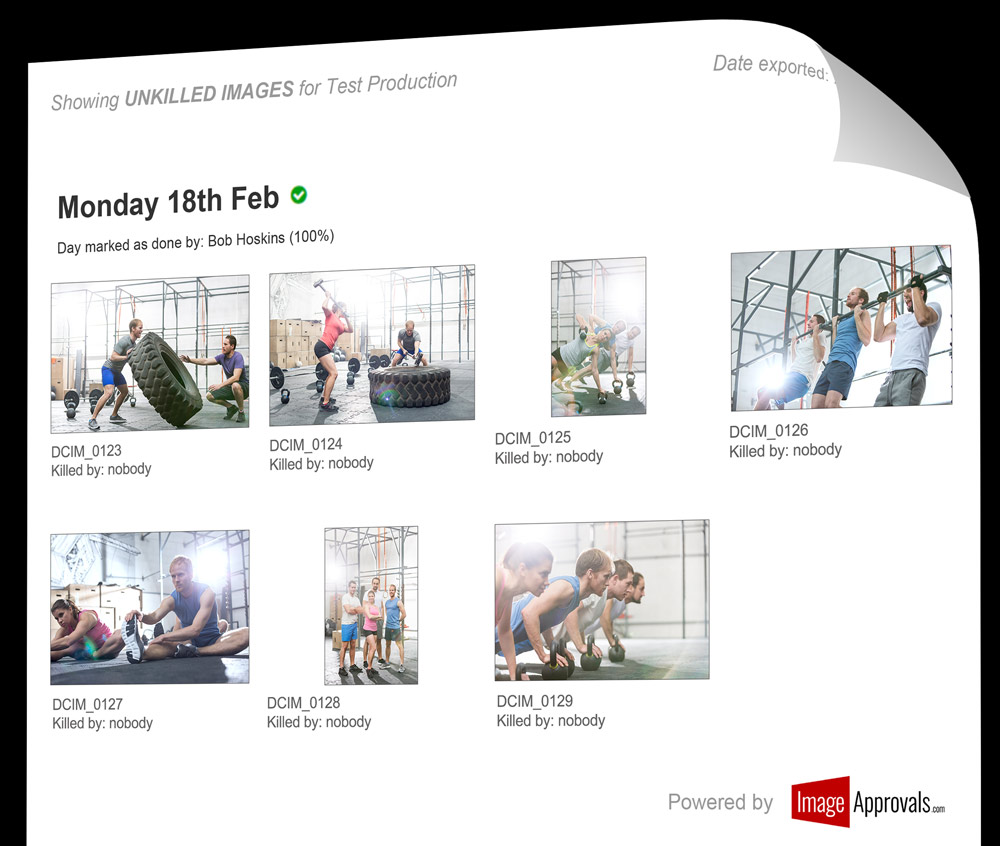 Start the approvals process on day-one of shooting
Social media and PR often demand the timely release of assets, especially for episodic content and first looks. Our platform helps to prevent the talent photo approvals process from blocking your marketing and publicity activities by offering a daily FTP upload option to your photographers so we can get your images organised and ready for approvals ASAP.